The House:

The house is a lovingly restored Victorian home with 3 rooms for guests and two shared baths, the upstairs bath has a tub and the downstairs bath has a shower. Cable TVs are available in all 3 rooms. The house has a very large warm and friendly kitchen and porches all around. It is situated on a large well groomed, garden filled grounds with large trees and ample parking. There is no smoking in the house.

The History

:

The house was built around 1890 and was owned by the G.O. Kimball family until around 1930. The home was vacant until 1940, when it was purchased by George Bailey, a local subsistence farmer. The house was then transferred to his son, Alfred Bailey, a local farmer and worker in Hardwick's Sam Daniel's foundry. The home was purchased by the present owner in 1979 and has undergone extensive renovations.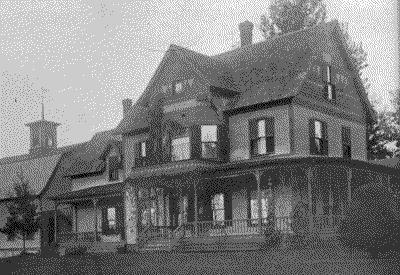 An Early Photo of the Home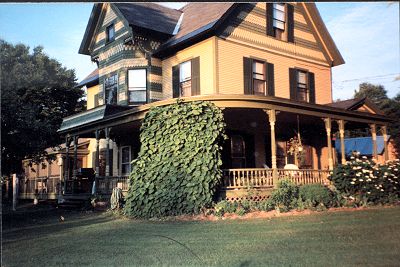 The Home as it appears today
The Location

:

The house is located in Hardwick, Vermont. Hardwick is in Caledonia county and part of the area in Vermont referred to as the Northeast Kingdom. It is 30 miles north of the Capital city of Montpelier and 50 miles east of Burlington, Vermont's largest city. It is two hours from Montreal, 3 hours from Boston and 6 hours from New York City.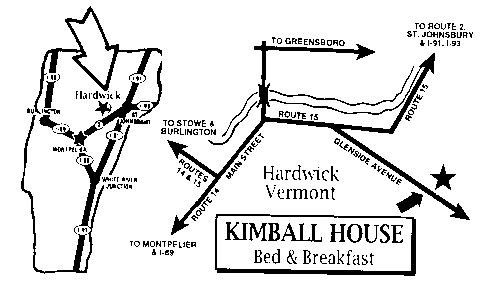 Activities:Kimball House Bed and Breakfast's location in the Northeast Kingdom of Vermont provides the guest with a wealth of activities in all seasons. Summer activities range from hiking, bicycling and canoeing, to Chamber Music at the local Town House, Circus Smikus nearby, incredable bird watching, and a water slide and alpine slide nearby. Winter activities include; skiing (both downhill and crosscountry, snowmobiling, snowshoeing and there is even a place, nearby, where one can get dog sled rides. Vermont's Northeast Kingdom has beauty and fun for the whole family, the whole year round.

We are eager to make your stay as fulfilling and pleasurable as possible and are happy to assist you in planning your "getaway" according to your interests and needs.

Rates: Rates are $99-$119 (plus tax) per night and include a self serve coffee, tea and hot cocoa bar with delicious muffins to start your day! Reservations and other arrangements are exclusively done by telephone.

Amenties include:

Air Conditioned rooms in the summer
Cable TV
Free wi-fi
Bathrobes provided for your use

Cancellation Policy:
A 14 day cancellation notice is required and there is a $25.00
service fee. With less than 14 days you will be refunded only if the room is rebooked.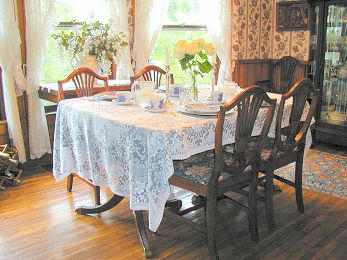 The Dining Room